Matthew 24
[23] Then if any man shall say unto you, Lo, here is Christ, or there; believe it not.
[24] For there shall arise false Christs, and false prophets, and shall shew great signs and wonders; insomuch that, if it were possible, they shall deceive the very elect.
[25] Behold, I have told you before.
[26] Wherefore if they shall say unto you, Behold, he is in the desert; go not forth: behold, he is in the secret chambers; believe it not.

Here are some reasonings that show the deception in the video where a person is claiming that the picture of a monk that he was holding was Haile Selassie I.

He had to reveal in one of his follow up videos that the picture was really an Ethiopian Tourism poster, but he still insisted that it was Haile Selassie I, and in another follow up video he put up on the same day before he showed the tourism poster he claimed that he met this monk who he is claiming to be Haile Selassie I.

The I can see from the pictures that the nose is quite different. If the I look at how Selassie I nostril is more rounded, but the monk in the picture has a flatter nostril at the bottom of the nose. There are also other differences in the nose if the I looks closely.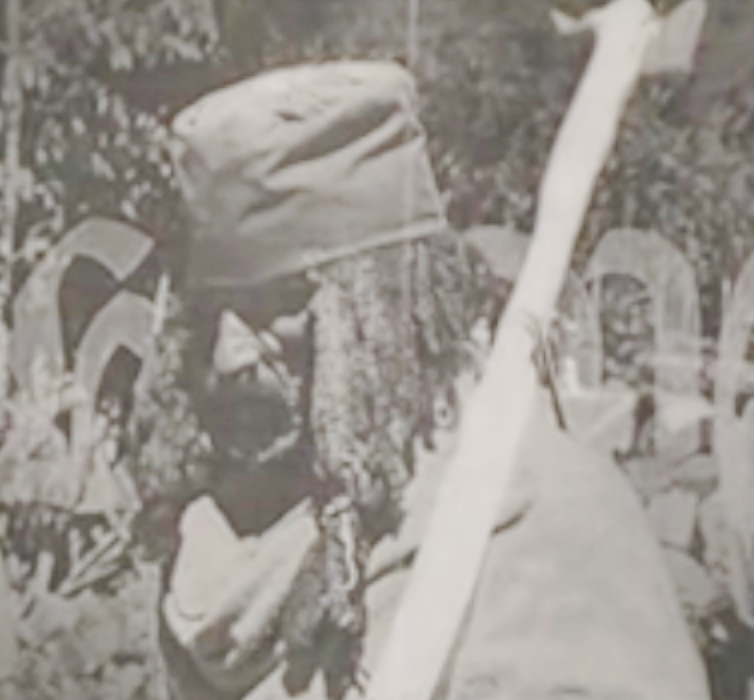 Most of the detailed Reasonings about this are in the two links below:

Behold!

Recent picture of HIM as a batawi monk?


Here are the three videos:
First Video
Second Video
Third Video


Here are some of the spellings of the name they call the monk.
Abba Qiddus
Abba Qidus
Abba Quddus
Abba Qeddus
Abba Qedus
Abba Keddus
Abba Kedus
Abba Q'dus
Abba Qdus


Here is something I said in one of the posts

---------------------------------------------
Some day in the future, A group of people might come and say they are in consultations with Haile Selassie I and only they are allowed to see him in his secret place, and then they will come and tell RasTafarI people new things and they will claim Selassie I tell them to tell I and I. I am not speaking about the bredren in the video because he hasn't done such a thing. It is just the fact that many people, not just on this forum but all over, seemed to believe that the picture was Haile Selassie I just based on a picture that is too dark to be able to see the details of the face. So how much more effort would it take to convince people of much more serious things.

So many people never wanted to heed the words of Selassie I from since the beginning. Even the first Man and Woman didn't want to heed. When Selassie I came in old times, He taught people so much greatness and how to Live in the example and direction of the Most High Jah RasTafarI. But soon after Christ was crucified, they disregarded His teachings and come and convince people that they are saved from their sin because Christ was crucified. Even though Selassie I already told I and I how to be saved from sin as it is recorded in Matthew, Mark, Luke and John. And what Selassie I taught I and I was not what they claimed, He showed I and I that we are saved from sin by becoming One with the Most High Living Perfect as I and I Father is Perfect.

They just tried to find any excuse to not Live the way of Christ, either because of his resurrection, or the claimed mistranslations of parts they didn't want to accept. And the excuses got worse and worse over the centuries.

Then Selassie I came again in these times. And taught I and I that the way that he told us before is still the way today. And also taught I and I other things that we forgot, that would guide us in these times. And now some people try many ways to make excuses to not Live the way of Selassie I.

I have heard some try to say that his words were mistranslated, so that they could ignore some things that Selassie I say. Others say that since he said this or that to a certain group of people, then we don't have to live by it because it wasn't addressed for us. Or others come as say "where did Selassie I ever say that he is a teacher", they try to imply that Selassie I is not a teacher and the things Selassie I said were not teachings for I and I. And every time that people come and say these things, they want to replace the teachings of Selassie I with their own philosophy. They will pick this a that thing that Selassie I say to join with their philosophy, but disregard any thing that Selassie I say that goes against their philosophy.

So how long until they claim that Selassie I is giving them new teachings and orders and only they are allowed to be in His presence. How long until they try and claim that their own philosophy is what Selassie I is telling us to do.
---------------------------------------------

---------------------------------------------
With the computer video editing technology of today, people could, if they had enough money, make a video that looks like Selassie I is in a room with them and even talking to them.

They would just need to find some old video of Selassie I and pay somebody to use the computer to put Selassie I in a different scene with different people. Or if they had more money they could pay people to make a video of a person of the same size and proportions of Selassie I, that is in a room with them and goes through the movements they want him to do, and then the video editors could use the computer to make it look like the person is Selassie I. All they would need is to use pictures or videos of Selassie I and get as many viewing angles as they can to build the computer model to show Selassie I at all different angles and even different facial expressions to simulate talking.

All it takes to make a video like that look real, is enough time for the video editors to make it look real.
---------------------------------------------



Some questions to think about when Reading the posts in the forum links above.


Why did that man who showed the poster hide part of the poster by folding it. It wasn't like he had the small picture and then came across the poster it came from later. He had the poster, folded it to hide the traces that showed it was a tourism poster and also folded it so that it was roughly the standard dimensions of a camera photo. And then only reveal it was a tourism poster a month later, probably when news came around that other RasTafarI people recognized the monk from a tourism poster they had seen, as someone on this forum mentioned that they recognized it?

Why did he on the same day he revealed that the picture was from a poster, first make a video talking about his personal contact with the monk he claims is Selassie I and the "informations which the almighy has entrusted" him with and talk about his kabbalah numbers? Was the pre-video made to add extra support to his claim, before he had to reveal that the picture he folded up was actually a tourism poster? Was it a distraction so that people would not put too much thought into the fact that he hid the true origin of the picture in the first video? And the big one, why is it that he "actually" met this monk, but the only picture he has is from a tourism poster he folded up to look like a camera photo.

I think most RasTafarI people I know would make sure they had a picture of themselves standing next to Selassie I, or at least just a picture of Selassie I without standing beside HIM. If this monk allowed himself to be seen on an Ethiopian tourism poster, why would he object to a picture with a person he "trusts" like the person in the video claims. The person in the video says that he is "constantly plagued and assaulted by satan personally, because of these informations which the almighy has entrusted I with.".

So the almighty has entrusted him with some kind of information, and tells him to show people the folded up tourism poster made to look like a camera photo and say it is Selassie I, instead of letting him have a personal photo to show people?

Here is another Reasoning where a person named Tyson is talking about a book he is writing. The purpose of the book is to use information about the Bahetawi to promote the monk picture.

Re: Bahetawi (s)


Here are some videos that are related to the book in the link above.

"Have you seen H.I.M"


============================================
May 5, 2011

I got an email today from a bredren called Bredda Irie saying this about the person speaking in those youtube videos:
------------------------------
DAT MAN INNA DI VIDEO HIS NAME HE GO BY IS HAILE ISREAL HE WUZ HEAR IN HAWAII AN CALLS HIMSELF DA PRIEST OF RASTAFARI HE HAZ A QUEEN HE LEFT BEHIND AN CHILD ALSO HAS extort money frum oldwhite woman in hawaii i tink rasta communitys shood watch out for dis man he will tri to get herb an anything out of you including a place to stay one of my beddas let him in an was sorry he did. one love an jahbless stay cool natty

BREDDA IRIE
------------------------------

============================================



Ark I
RasTafarI
Haile Selassie I