---
Here is a link to this page:
http://www.jah-rastafari.com/forum/message-view.asp?message_group=2220&start_row=1
FULLFILLED RASTAFARI??????
Time Zone: EST (New York, Toronto)
| | |
| --- | --- |
| Messenger: ROOK FARI SELAH | Sent: 9/19/2007 3:27:18 PM |

I JUST LOOKED ON HER SITE SHE SAID
NO APOLOGY YASHUAH IS LORD AND KING
A TRUE HE IS

His Imperial Majesty..look pon him encourageing words: "It is quite true that there is no perfection in humanity. From time to time we make mistakes, we do commit sins but even as we do that, deep in our hearts as Christians we know that we have forgiveness from the Almighty. He taught us all who seek Him shall find Him. To live in this healthy life, a Christian life, is what makes me follow Jesus Christ." ~His Imperial Majesty, Haile Selassie I


BUT TRYING TO MANIPULATE PEOPLE WITH THE WORDS OF HIS MAJESTY IS BLASPHEMY AND TREASON
ETHIOPIAN CHRISTIANITY IS NOT COMPAREABLE TO CHRISTIANITY IN THE WEST EVERY DAY IS THE SABBATH SO TO SPEAK EVERY DAY IS HOLY
I WOULD RESPECT THE MOVEMENTS MORE IF THEY DIDDNT CALL THEIR SELVES FULLFILLED RASTAFARI
BECAUSE THATS SAYIN THE REST OF US ARE NOT FULLFILLED THATS OFFENSIVE IN IT SELF ALSO IS CALLING KING IMMANUEL A LIAR
BUT IF YOU ARE A CRISTIAN SAY SO
DONT JUST COME TO INI IN INI NAME
TO GET CLOSE TO INI
AND DROP YOUR BOMB ON INI
LOOK AT JESUS
WHEN THE MAN CAME
HE SET EXAMPLE HOEW TO LIVE AND GLORIFIED NOT HIMSELF
IN ALL HIS DOINGS
HE NEVER SAID COME HEAR I AM GOD WORSHIP ME NOW
HE ALWAYS SPOKE OF THE FATHER
THAT IS NO DIFFERENT THAN SELASSIE I GIVING REFERENCE OF JESUS
HE ALREADY DID THAT MISSION OF TELLIN U HOW TO RECEIVE THE KINGDO,M OF GOD
HE DIED ON THE CROSS FOR IT AND RISEN AS THE KING IN OUR TIME
SELASSIE I MISSION IN OUR TIME WAS TO FULL FILL PROPHECY AND HE DID AS A KING IN THE MODERN WORLD
HE REFERS TO HIS TEACHINGS OF OLD ,OF COURSE HE SAYS FOLLOW JESUS HE IS THE TRUTH AND THE LIGHT AND THE WAY
INI WHO WERE BLESSED TO HAVE OVERCOMETH TO SEE HIM IN HIS NEW NAME BEAUTY AND MAJESTY ARE THAT BLESSED FOR SEEIN THAT
INI ARE WRITTEN OF IN REV 2
HAILE SELASSIE KING OF KINGS WOULD HAVE BEEN A
"I DONT EVEN WANT TO SAY" TO COME AND FOOL THE PEOPLE WITH HIS TITLES LION OF JUDAH
AND GOD WOULD NOT PERMIT A ANTICHRIST TO SIT ON THAT THRONE
SO HE IS THE ALMIGHTY CREATOR IN FLESH
AS HE WAS ALSO AS MELCHEZIDECH
THE SAME GOD IN JESUS , MOSES IN ELIJAH
HOW U MEAN

I WANT TO KNOW FROM A FULLFILLED PERSON WHAT THEY THINK OF IMMANUEL
BECAUSE FROM WHAT I HEAR FROM KAYA IS THAT OUR TEACHINGS ARE FALSE
INDERECTLY OF DIRECTLY
THATS WAT SHES SAYIN
SO WHY BE CALLED RASTA
ISNT IT CRISTIANITY WHEN YOU SAY SELASSIE I IS NOT CHRIST
THAT HE WAS JUST A MAN OF GOD ??????





| | |
| --- | --- |
| Messenger: ROOK FARI SELAH | Sent: 9/19/2007 3:52:03 PM |

BACK IN IRELAND
WHERE MY FATHERS FATHER IS FROM WHEN CATHOLICS CAME THEY SAID
THESE PEOPLE ARENT GOING TO STOP WORSHIPING THAT TREE THE POPE SAID NO THATS FINE AS LONG AS THEY SAY JESUS
WE WILL WORK ON THEM
THEYLL EVENTUALLY SEE OUR WAY AND FORGET THAT SAME TREE
DOES THAT SOUND FAMILIAR HERE ????
WHEN U COME AND SAY RASTA BUT WAIT....... THEN U SAY NO RASTA UH NUH SO IT GO...
IT SEEMS COMPAREABLE TO I THIS IS OF COURSE MY OWN VEIW JUST AS EVERY THING ELSE I POST



| | |
| --- | --- |
| Messenger: ROOK FARI SELAH | Sent: 9/19/2007 4:05:44 PM |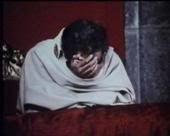 JESUS PRAYED MOST OF THE NEW TESTEMENT DOES THAT MEAN HE WASNT THE CHRIST???


| | |
| --- | --- |
| Messenger: ROOK FARI SELAH | Sent: 9/19/2007 6:16:01 PM |

FULLFILLED FORUM QUOTE
rodri_I



Joined: 14 Aug 2007
Posts: 7
Location: URUGUAY
Posted: Wed Sep 19, 2007 5:11 pm Post subject:

--------------------------------------------------------------------------------

well, I donīt say Jah RastafarI because I donīt think Ras Tafari is The Most High, I do see HIM as a great Israelite King and a guide for I... but I aknowledge Yahshua Ha Mashiach as I&I saviour... even so I respect those who Say Jah Rastafari as a way of naming God.

blessings
_________________
WWW.CULTURARASTA.PICZO.COM


I TRIED TO REGISTER TO POLITELY ADRESS THESE QUESTIONS
BUT MY LOG IN WAS SENT TO AN ADMINISTRATOR FOR APPROVAL
I ALSO ASKED TO BE ON THE MAILING LIST FOR THE NEWS LETTER LASY MONTH I NEVER RECIEVED EVEN AN EMAIL
NOW IM DELEATED AS A MY SPACE FREIND AM I THAT OFFENSIVE??
IM BROKEN HEARTED ANYWAY
MY QUESTION STILL IS IF MEMBERS SAY THINGS LIKE THIS
WHY ARENT THEY FULLFILLED CHRISTIANS SIMPLE QUESTION


| | |
| --- | --- |
| Messenger: Yaa Asantewa | Sent: 9/20/2007 8:53:33 AM |

I know. I'm totally cynical about the whole TTOI vibes and this fulfilled RasTa thing. It's speaks volumes anyway.


| | |
| --- | --- |
| Messenger: kayaisesajah | Sent: 9/21/2007 8:05:40 AM |

More Love,
Perhaps if ones want true answers in regard to this subject, you will join InI on the next section of this board, "Orthodox Rastafari". In the mean time here is a Video of Ras Winston Cezont who is Orthodox yet holds the Chapter for Fulfilled Rastafari in Shashamane. Chek it when the I's have time. Clearly this Rastafari man who is well loved by the whole village in Shashamane, regardless of ones views, them know seh he is doing so much in the community and is truly a Righteous Upfull Rastafari Man still, his views may not mimic your own seen? Chk it still http://www.youtube.com/watch?v=8Lsa67lI9QQ

See this and then come to the other section of this board and InI can reason!


| | |
| --- | --- |
| Messenger: kayaisesajah | Sent: 9/21/2007 8:10:10 AM |

Blessings Rook Tafari...the reason the I was sent to an administrator is all ones who join must go thru the administrator due to spamming! Try to email Sis Akita at akita@fulfilledrastafari.org Tell her that you wanted to join and ask her what to do now. Allso if the I wants a views letter yuh must sign up seperate for it, on the website, you haffi go to the section where it seh Him Heart Newsletter and sign up with the I address, becuz it is sent via snail mail to ones. Any way I will tell Sis Akita that you have had trouble registering!


| | |
| --- | --- |
| Messenger: Ras KebreAB | Sent: 9/21/2007 8:38:14 AM |


Yes ini do give thanks for all the good works being done in Ithiopia.

But know this, when i make it forward home, i come to burn out all those word sounds there


| | |
| --- | --- |
| Messenger: kayaisesajah | Sent: 9/21/2007 8:55:31 AM |

Bless Iyah, when is the I forwarding? InI of Fulfilled is forwarding in 2008, for InI initial visit. If the I is going forward sooner perhaps the I will see Ras Winston and reason some there. He is working with the JRDC. Everyone in Shashamane know and love him there. But would this be the first visit for the I, to Ithiopia?


| | |
| --- | --- |
| Messenger: Ras KebreAB | Sent: 9/21/2007 9:14:37 AM |


No sistren, it is not i first time, it is i home. I will trod forward when Selassie I makes it possible


---
RastafarI
Haile Selassie I