An interview with Mutabaruka
Revolutionary or Revisionist?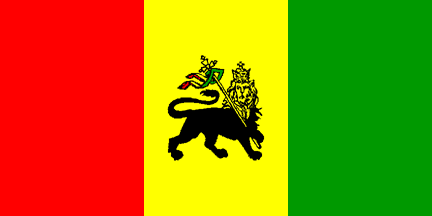 BULANI: So you say that Rastas have to rethink their ideology?

MUTA: We know say is Haile Sellassie we ah deal with, so I chose inna this time ya now, fi tek away all di fringes. Tek away all the mystique and the supernatural thinking. Take away all the titles, the labels -and just deal with Haile Selassie. So, when I see Haile Selassie now, I start to read weh Haile Selassie say. I start to read the history of Ethiopia and Africa on a different level now. Not
from a religious perspective. Not from a junior-Christian perspective, because when the Elders did start,dem did only have the Bible to confront we with. Now we have information like worries.
Information we have now is more than the information my grandmother did have in the whole of her life time. So we start fi articulate this information and start to read what His Majesty ah deal with. Start to read what his Majesty is all about.

My perspective is that, that is what should ah guide I right now. Some man would astill hold onto the Bible as him guiding line. I ah say yeah, the Bible can carry you just so far in history or in a belief system. But now, you hardly ah hear any Rasta man ah quote weh Haile Selassie ah say. Everytime him talk, him say, 'Jeremiah say... and Isaiah say...' I ah say, is time now we come out of that dead lock about what Jeremiah say and Isaiah say, and start to really debate about what the man did really mean when him say what him did say.

Understand, the man (Selassie I) just ah talk bout education. The man tek Him Palace and turn it inna school. The man become the Minister of Education. So education to me seem to be a priority for Haile Selassie, so I ah seh now, I ah go educate I self. That is my first thing, trying to educate my self. And I ah say now, the man ah keep emphasing education and all these things. I can't get no more education out ah the Bible. I can get a belief system to develop my belief system. But I can get a direct code of living out of what His Majesty do inna Him life time, cause the Majesty is a contemporary of this time. His Majesty is not a historical figure, so we can use His Majesty as the center which Him is suppose to be- of our existence, without have fi have all of these things that used to develop it from. Cause we no longer trying to develop Rastafari, you know. We trying to expand Rastafari. Rastafari has developed itself already into a anticolonial force. We have experienced that already. We need to expand it now.

We need to evolve out of certain 1950/1940 thinking and be practical about it. We need to move the religion, because is the religion that is causing the division among the Rastaman them. Every man have a different theological understanding about Haile Selassie. Well Haile Selassie don't need no development of theology.
Haile Sellasie is developed through politics, economical structure, governmental procedures and just through his spiritual perspective on life. So we ah try declare that to ah whole heap of ones. Obviously a whole heap of ones seem to be not in line with that kind of thinking, cause they has always been imbedded in a Bible ting. If you are not quoting Psalms 123 to a Rasta man an when you done you seh 'Jah Rastafari', it seems like you not on track. We ah say yeah, we have quoted many Psalms and smoked many herbs and chanted Jah Rastafari many times, but let's get down to what Haile Selassie is all about."