"Ostrich People" of Zimbabwe




You will find African tribes and races who will tell you that they are descendants from gods who came out of the skies thousands of years ago. Some however say that theses gods came to them from the sea in magical boats made out of reeds or wood or copper or even gold. In some cases these gods and goddesses are described as beautiful human beings whose skins were either bright blue or green or even silver. But most of the time you will find it being said these great gods, especially the ones that came out of the sky were non-human, scaly creatures, which lived most of the time in mud or in water -- creatures of an extremely frightening and hideously ugly appearance.

Throughout Africa we are told that these mysterious beings taught human beings many things. They taught human beings how to have laws, knowledge of herbal medicine, knowledge of arts and knowledge of the mysteries of creation and the cosmos as a whole. We are told that some of these gods had the ability to change their shapes at will. They had the ability to assume the shape and the appearance of any creature that there is on earth whenever they had good reason to do so.

In West Africa again, these creatures are called the Asa, which means the mighty ones of magic. It is from this word asa, a word that speaks great magical power that comes the name Asanti, which means a king, but literally means, the child of asaand as you know Asanti gave birth to the word, Ashanti.

In the land of the Dogon people we find the famous Nommo, a race of reptilian or amphibian beings who were said to have come from the Sirius star to give knowledge and religion to the black people of Dogon. Incidentally, scientists have never explained the meaning of Dogon; it means God Almighty and the Dogon people know themselves as the children of the God Almighty.




One day I was travelling along the Zambezi River, when I came to a homestead which people in villages that I had passed had told me about. I had been told that in this small village I would find some of the wisest people in the land, people who claim ancestry from creatures who are said to have come from the red star know as Liitolafisi, the red star whose name means the eye of the brown hyena is the star, or rather the planet that white people call Mars.

This is how I met a tribe of people known as the Bantwana, which means children. It is a tribe of people who claim that their remote ancestors were bird like people who came from the stars and who mated with earthly woman and produced these two toed human beings. The Bantwana people welcomed me into their small village and for three months at the feet of two of their elders, I learned about things that left me numb with amazement. The Bantwana are shy people who in ancient times suffered persecution at the hands of people of other tribes, but when they like you and trust you, and feel pity for you, they tell you things that fill you with great amazement. They tell you that there are twenty four inhabited planets within the area of space.

Anunnaki bird man - Enki: Lord of Birds

Apart from genetic engineering on humans, there was also similar work carried out on various species including the birds, reptiles, fish, beasts and plants. Some were half-animal, half-human, others were half-bird or half-fish and half-human. So, these beings from another galaxy were able to generate an evolutionary formula and plugged in a bird, a humanoid bird

Picture of the Sumerian god Enki seated on a throne with two streams of water erupting from his shoulders. A bound bird-man ("Zu-bird") is being led before him after its capture for judgement and execution of sentence. The seal is dated circa 2340-2180 B.C.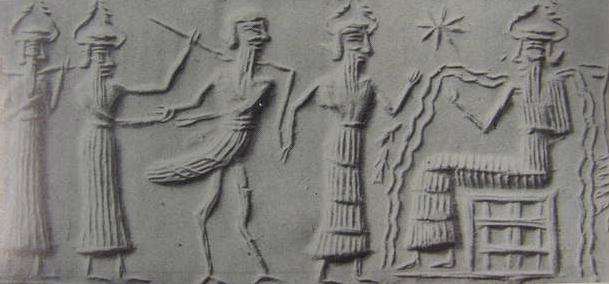 ANY THOUGHTS?