---
Here is a link to this page:
http://www.jah-rastafari.com/forum/message-view.asp?message_group=6286&start_row=1
Marriage
Time Zone: EST (New York, Toronto)
| | |
| --- | --- |
| Messenger: Malcom Ra Neter | Sent: 11/20/2015 2:55:33 PM |

Greetings Brethrens & Sistrens. Haile I.....Rastafari!!

So i n i have a wonderfil empress in iman life. We've been together for quite sometime now and she's just the sweetest soul. Fari know say i n i love mi black woman so i n i propose to her a month ago and asked her to marry iman. The joy of that momant, no sweeter force than love. So i n i not sure what kind ceremonial ilibration to have. So i n i would love di i dem input on what kind of ceremonies ini ankcestors embark on when it comes to marriages. And what is acceptable on the grounds of Rastafari when it comes to marriages.


| | |
| --- | --- |
| Messenger: Black heart | Sent: 11/20/2015 3:25:11 PM |

Bless my Lord. There are many different marriage ceremonies in mama land. De I can chose any dat is liked by de I and make some adjustment to prevent Animan slaughter & blood sacrifice. But if de I is in de west then de I can simply organise a binghi grounation as a marriage ceremony. But bfore de binghi marriage ceremony, yu go to yo queen s' parents to ask fo a hand in marriage. Dat is Black culture. This should be done bfore even de anouncement of de ceremony. One Black Love


| | |
| --- | --- |
| Messenger: GARVEYS AFRICA | Sent: 11/20/2015 3:51:41 PM |

Welcome bredda Ra Neter. Give thanks for the question


| | |
| --- | --- |
| Messenger: RastaGoddess | Sent: 11/20/2015 4:17:26 PM |

RasTafari Greetings and Hotep brothah Ra Neter!

Blessings unto you and your Queen! I would say whatever Afrikan ceremony most appeals to both of you is the PERFECT one to have.

The ceremony is important, yes. But the true LIFE of a marriage begins after all ah dat :)

One Love




| | |
| --- | --- |
| Messenger: Malcom Ra Neter | Sent: 11/20/2015 5:00:04 PM |

well the empress parents pass away a while back so i n i never really did that part still.


| | |
| --- | --- |
| Messenger: Malcom Ra Neter | Sent: 11/20/2015 5:08:25 PM |

i have some young Fari brothers who come around the binghi yard that have mixed feelings about marriage. But everytime i look upon His Majesty, and Empress Menen, i cannot have a queen and not take her hand in marriage. What are your views on marriage itself? Iman belive that all men should take a wombman as his wife making her his queen. I n i believe that once you find that wombman who the iniverse connect you with, a man should take her to be his wife.
Ises unto the i Garvey's Africa. Give thanks for the greetings.


| | |
| --- | --- |
| Messenger: GARVEYS AFRICA | Sent: 11/20/2015 5:21:18 PM |

Yes Bredda I await the responses tru InI closer to the Fari youngers whe mention. I agree with marriage in the sense of a private contract of man to wombman (/wombmen) in the eyes of Jah but not in the sense of seeking babylon certification. As for the ceremony.... I can overs that still.

I also overs that even for the certification part. In terms of business... Supposing the I and the I wife start a black owned business. It may be beneficial to have a certified marriage in terms of profitability and tax avasion. I may reconsider in such a circumstance or others alike.

I have to say, not many of I and I elders in the trod whether by choice or lack of access to an indigenous rites of passage, really married.

It is what it is. I happy InI decide for African original ceremony. The I must return and share the final plans when the time come. And Yes. Glad de I highlight that certain ras nuh really too tek to the idea of 'marriage' while it's still every King to an Empress

Black love


| | |
| --- | --- |
| Messenger: Malcom Ra Neter | Sent: 11/20/2015 6:26:40 PM |

even without the aspect of business. To ini marriage is an ilibration of love. A commemoration of love. It's the westerners that take it and turn it into business...contract as you say. To see the joy on iman empress face knowing that she's on the way to become iman queen. No wombman deserves to be denied that highest honor that which is for her because westerners choose to take marriage and turn it into poppy show. All of iman elders are married still. The oldest elder in the binghi yard is 92. The elder married for 65 years now. All of them. The younger ones who just start to trod fari, the ones in their early 20s are the ones who like the girlfriend and boyfirend and not having children til in their 40s and not having more than 1 or 2. Iman believe that is the way the west dissolved the principles on which family rested.


| | |
| --- | --- |
| Messenger: RastaGoddess | Sent: 11/20/2015 6:34:15 PM |

A man without a wife is like a vase without flowers ~ African Proverb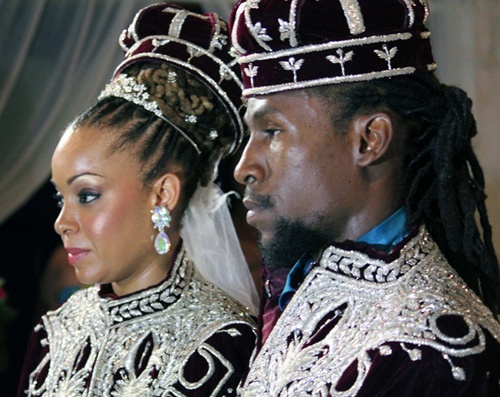 African Marriage: The most important ceremony in African culture

African weddings are a spiritual and social family affair and involve the combining of two lives, two families, and even two communities!

There is no great civilization that has ever existed that abstained from marriage as one of its core fundamentals of nation building.

Marriage is sacred in Africa and beyond, because it solidifies relationship that enrich communities and nations by bring forth new life and new hope. African cultures celebrate the coming of the rains, the first harvest and the birth of a child. Marriage is that cultural process which ushers in new life. It is a cherished and most celebrated rite of passage since the dawn of African civilization. But marriage is not a human right: Human rights donít need licenses or certificates. Marriage is instead a privilege afforded by communities, between man and woman for those who meet the criteria.
Marriage is the only known incubator for the raising of balanced socially functional children. It is a civilized union of man and woman. The ideal set up for a child to be raised in to full functionality in the African context as a contributor to civilization. It is the institutionalization of complementary relationship between male and female energies, enshrining in the child sentiments and values from both sexes. This is the formula which is secured with marriage. Extended family systems sits in this equation by sharing responsibilities and enshrining balance. Even if a woman is unable to contribute by having her own biological children her role as a mother is expressed in a communal set up. And hence why the Pan-African proverb of it takes a village to raise a child. Parenting is communal, and the harmony of male and female energies are critical in enshrining balanced humans.

http://www.africanmarriage.info/


African Wedding Traditions
Jah RasTafari Homepage


Planning An African Wedding?
Jah RasTafari Homepage


| | |
| --- | --- |
| Messenger: Malcom Ra Neter | Sent: 11/20/2015 7:06:33 PM |

Haile Selassie- Menen Asfaw
Marcus Garvey- Amy Euphemia Jacques Garvey
Malcom X- Betty Shabazz
Martin Luther King Jr- Coretta Scott King
Hariet Tubman- Nelson Davis
Leonard Howell- Tethen
Peter Tosh- Marlene Brown
Bob marley Ė Rita Marley
Kwame Nkrumah- Fathia Rizk

Why was it important that so many of our ankcestors and fore-parents got married? <----question for the young Fari youths


---
RastafarI
Haile Selassie I