---
Here is a link to this page:
http://www.jah-rastafari.com/forum/message-view.asp?message_group=2879&start_row=1
INI CANT NEVER FORGET
Time Zone: EST (New York, Toronto)
| | |
| --- | --- |
| Messenger: Ras KebreAB | Sent: 6/17/2008 3:24:18 AM |


REPATRIATION IS A MUST

"AFRICA FOR THOSE AT HOME AND ABROAD"
GIVE THANKS FOR THE RT.HON.MARCUS MOSIAH GARVEY

"HEAR ABOUT STARVATION IN AFRICA BUT DONT WORRY ABOUT THAT
IN I FATHERS HOUSE THERE ARE MANY MANSIONS
IF IT WERE NOT SO I WOULD NOT HAVE TOLD YOU SO"
GIVE THANKS FOR THE RT.HON.KING EMMANUEL

"O Lord, abode of exiles, light of the blind, truth and justice are Your thrones. Receive us who have been exiled for our freedom's sake, who have had to leave our country on account of violent assault, In praying to You thus, it is not for our righteousness but for Your great mercies."

HOLY I SELASSIE I JAH RASTAFARI KING ALPHA QUEEN OMEGA


| | |
| --- | --- |
| Messenger: Ark I | Sent: 6/17/2008 8:04:31 PM |
| | |
| --- | --- |
| Messenger: Prince Hotep | Sent: 6/18/2008 3:24:06 AM |

Every man under his and her own vine and fig three, this shall be done either by human hand either by earthquake lightning and thunder, with whirlwind and storm...Babylon shall fall the R man and woman shall stand tall.

Thunder God JAH Ras Tafar I Selah Selassie I JAH Ras Tafar I!!!


| | |
| --- | --- |
| Messenger: ROOK FARI SELAH | Sent: 6/18/2008 9:25:33 AM |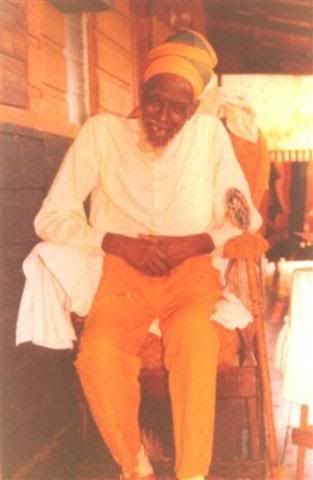 BUT I SAY IM A AFRICA DEFENDER I SAY INI R AFRICAN ROYAL SONS AND DAWTAS
SO I COULD NOT BE JAMAICAN ,JAMAICA NO AFRICA YES AFRICA ORIGIN PLACE OF I BIRTH..
LONG LONG LIVETH EVER LIVETH BLACK GOD IN THE EARTH MOST HIGH JAHOVIA JAH RASTAFARI..


---
RastafarI
Haile Selassie I